In eight days, Mr. H. (otherwise known as Grampy) and I will begin our first in a series of three camps for our grand-kids.

R.J., Ben and Charlie came to Camp for the first time in 2004.  This is our Ninth Year for the "big" boys!
This year, because the incessant rain has pushed the boys' baseball games well into the middle of summer, the camp for our 11 year olds will be in a hotel near where they live so they can get to their final(?) games for the summer.

On a rare sunny day, Ben takes it deep.
Grampy and I are up for the challenge…..
…we are digging through our "hey, let's have some fun with the kids" files
…we are poring through "I just know we'll find what we need" books
…we are making "don't judge me, this works" lists
…and we are putting everything we need in "we'll need the car top carrier, bumper style cargo basket carrier and just maybe a trailer" plastic bins (unfortunately, this really isn't everything….)
As for our t-shirts?
This year, rather than dragging out the screen printer, the talented and creative illustrator, Brenda Ponnay, made some charming designs for Camp Grandma (or in our case, Camp Grandmama and Grampy Campy).
Check it out.  Here I am on a T-shirt!!
Camp Grandma Shirts
by
WhatWillWeDoToday
Make your own
custom t shirts
online at Zazzle
Yes, I am shaped like a triangle.
Camp Grandma Sporty Pullover Sweatshirt
by
WhatWillWeDoToday
Design your own
custom photo t-shirts
online at zazzle.com
 Check out the sweat pants on Sporty Grandma!!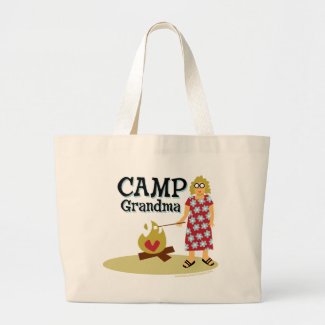 Camp Grandma – Comfy Tote Bag
by
WhatWillWeDoToday
Check out Camp Bags online at
zazzle
Comfy Grandma keeps peppermints, crayons and loose change in her bag!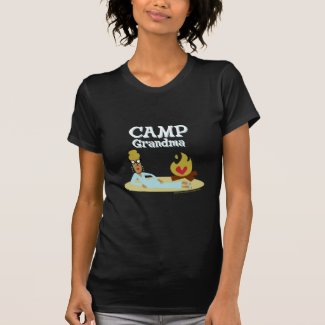 Camp Grandma Fashion Tee Shirt
by
WhatWillWeDoToday
Create unique
photo shirts
at zazzle.com
Fashion Grandma needs a chaise lounge … and a mani/pedi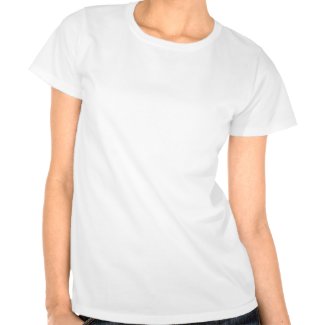 Camp Grandma Penants Tshirt
by
WhatWillWeDoToday
Browse more Camp T-Shirts at
Zazzle
Hooray for Camp Grandma!
I picked the "oh boy, you can't lose them in a crowd" model.
The model of shirt I picked is in deference to our 11 year olds, who just might not want CAMP GRANDMAMA AND GRAMPY CAMPY yelling out from their safety green shirts.
I'm pretty sure that might be the equivalent of dressing them in bunny pajamas …